The Heritage Foundation ranked both the Air Force and the Space Force as "weak" in its 2022 Index of U.S. Military Strength released Oct. 20, citing issues ranging from low readiness and misaligned investment in fourth-generation platforms to insufficient space domain awareness and offensive space weapons to match peer capabilities.
Heritage, a conservative Washington, D.C., think tank, rated Air Force capacity and capability as "marginal," its middle ranking, while scoring readiness and the overall Air Force as "weak" on a five-point scale of very weak to very strong. The Air Force's low ranking in readiness hinges on an annual average of 130 flight hours for pilots and insufficient investment in fifth-generation stealth aircraft most capable of facing peer adversaries. The Space Force was rated as "weak" across the board.
"On the Air Force, we're a bit puzzled by its investment strategy," index editor Dakota Wood said. The analyst said the Air Force was "spending more on research and development to have an Air Force that it would like to have in the 2030s, while it's not buying enough of current production aircraft to replace its aging current fleet."
The demands of two decades of war wore out the fleet, which has an average age of 31 years. Research and development dollars continue to outpace procurement, and the Air Force plans to cut 137 fighters and 32 tankers from its fleet by the end of fiscal 2022, leaving it at 69 percent of the Air Force that last fought a peer rival, the report finds.
"USAF currently is at 86 percent of the capacity required" to fight two major regional contingency operations, according to the report. "However, the disposition of those assets limits the ability of the service to deploy them rapidly to a crisis region. While the active fighter and bomber assets that are available would likely prove adequate to fight and win a single regional conflict, when coupled with the low mission capability rates of those aircraft …, the global sourcing needed to field the required combat fighter force assets would leave the rest of the world uncovered."
Using the 2018 National Defense Strategy as a guidepost, the report cites mission capable rates of between 52 and 74 percent for legacy aircraft (fourth-generation and below) as insufficient to face a peer rival. It also notes a shortfall of 1,925 pilots, a number that improved slightly over the past year due to the lack of commercial hiring during the COVID-19 pandemic. The report also highlighted historic lows in sortie rates at less than 1.5 per week and flying time at 131 hours per year.
The report says the low rates are far below "healthy fighter force thresholds" of three sorties a week and 200 hours a year per pilot.
COVID had a severe effect on flight hours and sorties, the report assesses, and Heritage states that it will take several years of training for fighter pilots to recover what they lost in 2020. "Unfortunately, the Air Force is not moving on that path and will cut 87,479 flying hours from its budget in FY 2022—a reduction of 7 percent," the report states.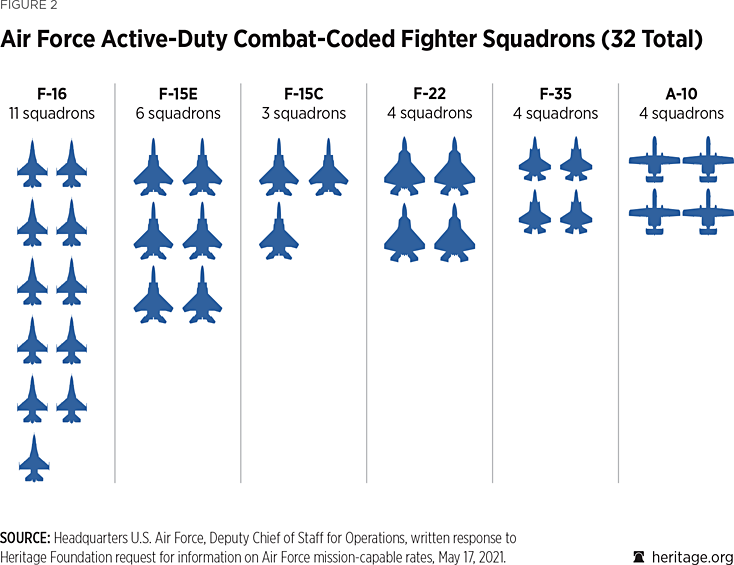 Senior research fellow John "JV" Venable, 25-year Air Force veteran, told Air Force Magazine the purchase of fourth-generation aircraft over fifth-generation platforms puts the U.S. at a clear disadvantage against a peer rival.
"The Chinese and the Russians do not fear fourth-generation platforms," he said. "But they do fear the F-35. That says a lot about what we should be buying right now."
The Air Force asked to buy 12 F-15EXs in its 2022 budget request and included another dozen F-15EXs in its 2022 unfunded priorities list. However, in a notable break from tradition, the service did not request any new F-35 strike fighters in its 2022 unfunded priorities list.
"We could be applying that funding into the fifth-gen fighter force and actually moving the ball forward with regard to capability of our assets," Venable said.
Neither the Air Force nor Space Force could immediately respond to a request for comment on the report's findings.
Space Force Gets Failing Grade
Venable said the report rates the 2-year-old Space Force as "weak" based on aging and unprotected satellites, lack of space domain awareness, and insufficient offensive and defensive capabilities.
"The Space Force is not capable of meeting current—much less future—on-demand, operational, and tactical-level warfighter requirements," states the report.
Venable said the Marshall Islands-based Lockheed Martin radar tracking system called Space Fence, which went online in 2020, only provides updates on the movement of some 26,000 objects every two hours.
"In between those two hours, what those platforms do, those satellites or missiles, … we wouldn't have known that because of the limitation on our spaceborne and our land-based surveillance platforms," he said, citing recent reports that China flew a nuclear-capable hypersonic glide vehicle through space in August.
Venable said the Space Force needs radars and satellites with optics to see spaceborne platforms and changes in the domain on a more regular basis.
House Armed Services Committee Ranking Member Rep. Mike Rogers of Alabama agreed that space-based platforms are lacking.
"Space-based platforms, unmanned assets, and more distributed logistics capabilities are essential to deterring China," he said, also citing reports of the Chinese hypersonic missile test.
"We're not in a good place," Rogers told Air Force Magazine in a pull-aside interview when asked about U.S. hypersonics progress an event launch marking the launch of the report. "What I'm telling you is that we've got some things going on that are going to put us in a great place."
Rogers, who keynoted the launch event, cited classified information in the hypersonics area that was "really exciting." He also said he is not worried about recent Air Force failed hypersonics tests.
"It's one of the things I keep trying to get members to get accustomed to," he said. "I want people to push the envelope and fail because every time you test and fail, you learn something. That's how Kim Jong Un finally developed a missile that could reach the United States."
The report is complimentary of the President's proposed $17.4 billion 2022 budget for Space Force, a 13 percent increase over FY 21, but it highlights ongoing growing pains.
Heritage praises Space Force for assimilating 60 disparate offices related to space from across DOD in its first two years, but warned that a significant portion of the 21,200 space professionals that remain in the Army and Navy must be incorporated into the Space Force to "remedy the dysfunctional oversight or command and control issues that the Space Force initiative was intended to resolve."
The report says it is not likely such transfers will be complete until fiscal year 2024 or later. The transferring of space-related units and missions from the Army and Navy has been delayed by the failure of Congress to pass a 2022 budget.
Venable said the Space Force is also behind adversaries such as China in terms of offensive capabilities in space. He said the U.S. has ground-based blinding assets that can temporarily impede a satellite's operations, whereas China has anti-satellite missiles on Earth and laser platforms on orbit right now.
"We have no true, at least unclassified, systems that can take an offensive punch to the Chinese," he said.
Rogers also addressed the Space Force's apparent lack of space weapons compared to the known capabilities of adversaries China and Russia.
"We intentionally are moving or developing Space Force in a layered effort over a five- or six-year period," he said. "I expect us to, as it matures, to continue to put more and more money in what they're developing both offensively and defensively. So, I'm pretty pleased with where we are there. I would like to be pacing that well in other areas."